The folks at Blundstone, a 146-year old Tasmanian company, were kind enough to send us a few pairs of their classic, slip-on work boots for consideration.
Blundstone might have started in Tasmania, off the southeast coast of Australia, but you'll now find Blunnies in over 50 countries. Most recently, they've become especially popular in Canada and Israel. As with Maine's famous LL Bean boots, they've become a hit with urbanites, too.
Hipster Love notwithstanding, they're still darn good boots for horse work. And who can argue with a Lifetime Guarantee?
I've bought low boots before and have been routinely annoyed when the boot top routinely catches my jeans' cuff. Not so with Blunnies! The width of the boot top is just wider than one's calf. No jeans (or bits of hay, twigs, manure, gravel) are going to find an opening.
I was also pleased with their comfort. I usually squeeze into women's boots or concede the wideness of my feet and order men's boots. No need with Blundstones.
Amy Skinner, owner of Essence Horsemanship, wrote from her barn in Boyne City, Michigan:
I'm a sucker for a good pair of boots, but I'm hard on footwear. From barn chores, to teaching, to riding, to going to the bank, any boots of mine have to do it all.  The Blundstone boots are cute enough to wear out, but made for barn wear.  As I tromped through the morning mud to toss hay over the fence at 12 hungry beasts, they stayed firm on my feet.  Huge plus there. (Everyone who has had a mud-related, slip-on boot fiasco knows how it can ruin your whole day.) The sole is firm with a good tread, which helped in the slippery footing.
It also came in handy keeping my feet comfortable as I walked next to my students while teaching. Lots of boots I've tried are set up for just riding, but these had a comfortable sole, so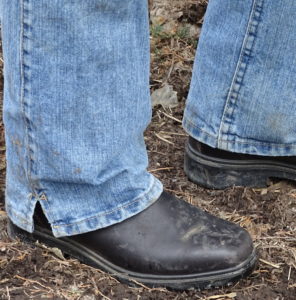 they worked well for walking too. The tread is good and not slippery and grips well in a stirrup.
The boots are easy to slip on and off, which is nice. The finger loops (pull-on tabs at the front and back of the boot cuff) make getting them on easy.  They don't seem to need any break-in time to be able to get your feet in easily, unlike lots of boots.  The leather is flexible and comfortable for wearing all day.  They have a good, solid heel which helps you stays in position well in the stirrup.
Some boots break in right away but seem to age prematurely.  These boots took a few weeks for me before they softened up a bit, but the leather is of a nice quality, so I think it's worth the wait.  I imagine these boots and I will be working together for another good while.
A few cons for me: my socks tended to be pulled down and the snug elastic on each side sometimes rubbed my ankles.