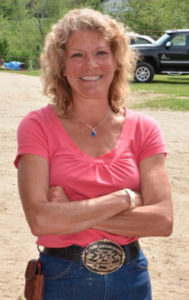 NickerNews and BestHorsePractices is happy to reconnect with Al Dube Quarter Horses, the Horse Farm of Merit offering lessons as well as hay in southern Maine. It's been another successful season at the farm, according to owner Cynthia Hodak.
The stables hosted clinician Martin Black last month and held versatility events earlier in the year.
Moving forward, Hodak said she's looking forward to focusing most on her lesson program.
"I've seen so many changes in people through riding," said Hodak. "Their leadership improves. Horses can help individuals get through life crises, too."
Hodak should know. When her partner, Al Dube died in 2011, she "rode every day, all day," she recalled.
"Our lesson program has expanded in all directions. This continued to enlighten us of the leadership qualities and healing energies exchanged between the horse and rider. We see miracles every day!"
Soon, the business will move to a new facility in Arundel: "More open space. More open fields and dirt roads," shared Hodak, who is also a certified Reiki master.
Lessons and hay sales will be offered. The grass fed beef business will operate next door to their new location.
Great job, Cynthia!
Visit the Al Dube web site here.