In response to our article on Clicker Training, we hear from Tim McGaffic, a Colorado trainer. McGaffic was introduced to Ray Hunt during the 1980s while working with difficult horses. The experience changed his thinking about how to handle horses and set him on a journey to search out Tom and Bill Dorrance and horsemen of similar philosophy.
Read more about how horses learn and schools of learning
McGaffic is known for low stress cattle management, his work with wild mustangs, and horsemanship clinics. He has conducted horse clinics and taught low stress stockmanship around the country and served as ranch manager of two large ranches in Hawaii that had been abandoned for years. McGaffic developed The Nature of Natural, a philosophy based essentially on the laws of nature and Applied Behavioral Science. He currently manages a small ranch in Colorado and has established an educational program for the betterment of horses.
Tim McGaffic writes:
As a trainer who has incorporated positive reinforcement into my training regimen, I have been asked to comment on the topic of clicker training. There are some basic misunderstandings about so called clicker training and they seem to be rooted, for the most part, in an incomplete knowledge of learning and thus clicker training or positive reinforcement. To start, let's talk about some terms, beginning with the ever-contentious subject (only for some), of clicker training.
Clicker training is simply an application of positive reinforcement. The use of a clicker is often useful to start the process as the sound it makes is distinct from language and thus can be used to become a clear marker to indicate desired behaviors to the trainee/horse and is more discernible from all other random sounds. When paired with reinforcement, often food (forage acquisition a category of behavior) or whither rub (social facilitation) the sound can predict a future pleasant outcome. This tendency to predict an outcome is based in what is known as Associative Learning. It's thought to be the most fundamental form of learning.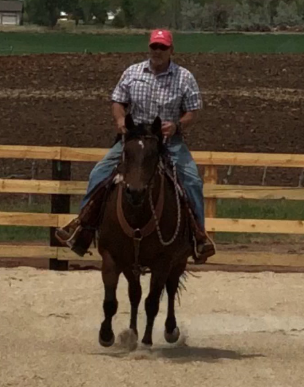 We do it all the time. We pass a sign, a restaurant, hear a sound, or see a person we know, and we predict an outcome, or, and more importantly, have a feeling about the particular stimuli, either pleasant or aversive. This same process happens in your horse and those feelings that occur are thought to be a guide as to what to do, an evolutionary adaption. In short, all creatures learn through a set of common ways that science has studied as learning theory, or in the case of animals, Applied Behavior Science.
In traditional horse training we use negative reinforcement, known to most as pressure and release, which is another way to learn. Both methods fall under the umbrella of Operant Conditioning, a term coined by American psychologist BF Skinner. It includes positive and negative reinforcement as well as two forms of punishment. The word Operant meaning to operate or be able to manipulate the environment through behavior. All four methods of learning have an associated feeling. Positive Reinforcement is associated with pleasure, negative reinforcement with relief, positive punishment with fear, and negative punishment with frustration. Those feelings have a great influence on motivation Those feelings have a great influence on motivation and, in the words of the AQHA rule book for reining, the horse must be 'willingly guided'. To be truly willingly guided, one would imagine that some pleasure would be involved.
My root philosophy is based in the Tom Dorrance, Ray Hunt approach to training. I've had the privilege to ride with many world-class trainers in disciplines such as dressage, reined cow horse, reining, and endurance. In addition, I worked at an endangered species ranch and saw firsthand how positive reinforcement was being used to work with rhinoceroses to research pregnancy and related issues.
Trust me, it is quite difficult to herd, coerce or force a Rhino into doing anything it doesn't want to do. And if you think you want to try, hopefully you are very fast and agile. With that experience and having run into some particularly difficult horse training problems I thought I would investigate positive reinforcement on a deeper level. I found two very accomplished marine mammal trainers who were now training horses and sought their help. They taught me the basics along with some theory and off I went. I now train with what is called Combined Reinforcement.
Here's a good description by Equitation Science International, an Australian company which offers training courses: "Positive and negative reinforcement can be used in conjunction, putatively to enhance the reinforcing effects of each other. Whether negative reinforcement training of horses is augmented by primary or secondary positive reinforcement, the actual mechanism of learning is termed Combined Reinforcement". The purists, on either side of the discussion will probably have their reasons why combining the two is not a valid approach. However, as noted on the Equitation Science International site, "when combined reinforcement is used, the adverse effects of negative reinforcement may be reduced. In addition, combined reinforcement may also be used to increase the probability that the naive horse shows the desired behavior, which can then be rewarded through both negative and positive reinforcement".
Being able to mark specific behaviors is an amazingly useful tool in communicating with your horse. Markers say to the horse "YES, you got it right."
Of course, having feel and recognizing innate tendencies take a certain amount of time for the trainer to learn, but those skills will only enhance the precision with which behaviors can be marked, leading to a lot of success for both horse and rider. I continue to be an advocate for combined reinforcement and continually seek more understanding and knowledge to become more proficient at it. I believe it is a very effective way to train a horse and one that the horses really seem to enjoy. Learning more about behavior and the mechanisms that create and alter behavior has not only been helpful but a very interesting journey and one that I enthusiastically pursue daily. And one last note, concerning the process, it's a lot more fun for me and I think for the horse, too. But who really knows what the horse actually thinks?