Since I left for college and the big city, this Maine girl has wanted to be a queen. Specifically, Queen Elizabeth II.
More specifically, I just wanted her perpetual country lifestyle, the part that includes dogs, horses, and a Barbour coat. That's the classic, waxed cotton jacket that she wears all the time when she's out with her aforementioned dogs and horses. It's something I've coveted for years, even decades. Barbours maintain that brilliant combination of no-fuss utility, toughness, style, and class. It's a gear combination that suits most of my fellow horsewomen and their needs to a T.
I never got a Barbour.
But now there's an American company making waxed cotton jackets with the same blend of utility and style. Based in Seattle (where it rains nearly every other day) and manufacturing in Canada, Feller Clothing makes jackets you will want to wear on sunny days, too.
Wendy Feller founded her new company a few years ago when she was looking for something that didn't shout activewear and wear-only-when-raining. She wanted something more classic and stylish than your average rain gear. She never found it.
So, the clothing designer with roots in New York City has crafted a wonderful collection of decidedly un-dowdy jackets (Sorry, Your Majesty, for all your fine qualities, you are nonetheless the dowdiest gal I've ever seen. You are the Queen of Dowdy.)
I tried Feller's City Pocket Jacket, made with rich, dark purple waxed cotton from the English textile company, British Millerain. All four exterior pockets have a simple, tough snaps. The YKK zipper goes both ways and the well-fitting hood comes off when there's no rain in the forecast. There are underarm air vents for optimal ventilation and those same simple, easy snaps if you don't want to zip it.
One of my favorite features – and one that consistently makes Feller stand out from its old-fashioned peers – is the Liberty of London cotton lining. It combines beautifully with the violet outer fabric and the black interior trim work.
I'm also digging the tailored Feller fit. The side belt has two snap options for either a straight look, or, it can be snapped snuggly for a more feminine cut.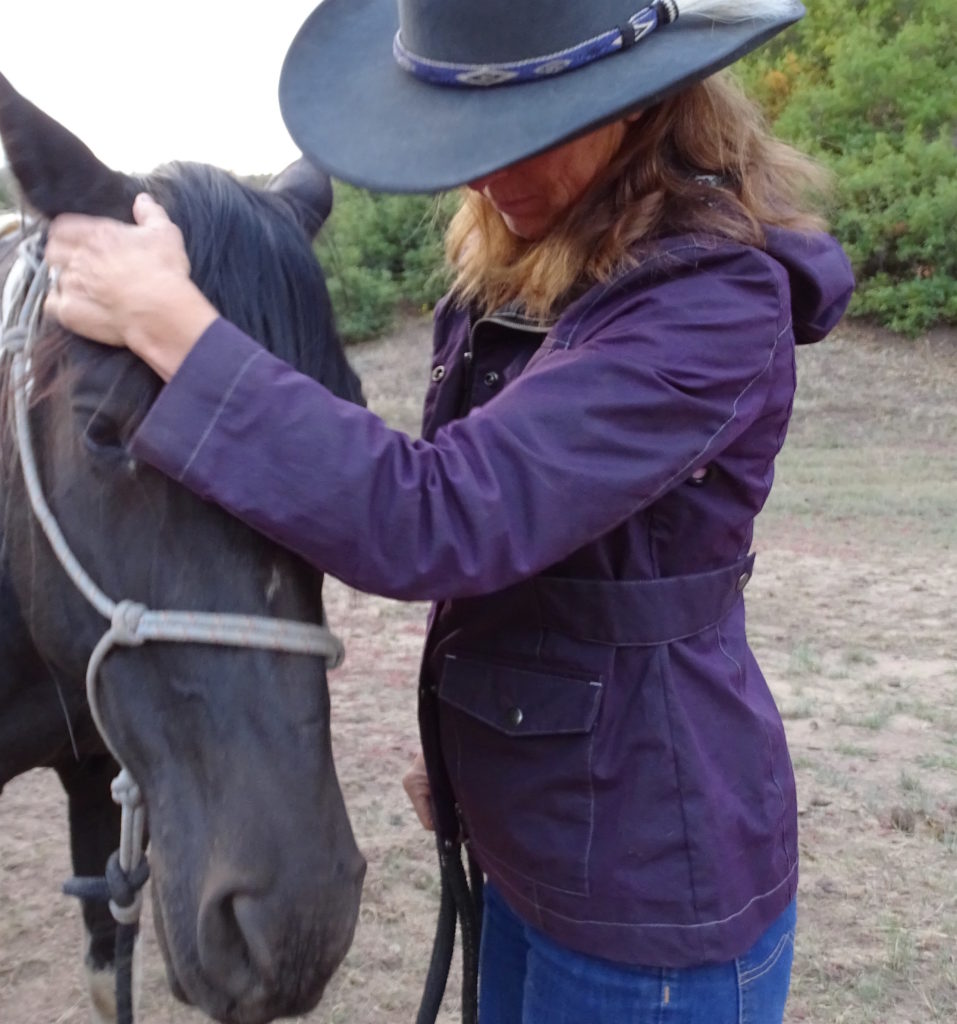 This jacket does run quite fitted, especially for us saddle-hauling, hay-tossing women with broad shoulders. I usually wear smalls or mediums and I love this jacket in medium. But I wouldn't have room for a sweater underneath when the days get shorter and colder.
As with all waxed cotton clothing, it's important to never toss it in the washer or send to the dry cleaner. Allow mud or dirt to dry and then brush it off. Never store it while still damp. And, if you wear it constantly and for years (like I'm tempted to), you can rewax it with special product.