If cowboy boots were beverages, a pair of Olathe boots, hand-crafted of premier leather in Mercedes, Texas, would be a smooth glass of single malt scotch. Or, for coffee drinkers, a silky double espresso brévé served in fine china. Read more about the Texas company here.
These boots are decidedly not convenience store bevvies. They are top-shelf priced and well worth the wait if you decide, as many customers do, to order a custom pair.
We received a fine-looking, tangerine-topped pair of traditional Olathe Rough Stock boots for review. Boot number #8007. The orange upper is stitched stylishly with brown, tan and white threads while the vamp or lower part of the boot is deep briar brown with orange and tan stitching.
The leather – in its feel, look, and smell – stands out as mightily superior to leathers of other brands we've reviewed thus far, including Ariat, Justin, and Boulet.
It'd be tempting to stash this pair in the closet and bring them out only for special occasions. They are that nice.
But since durability and comfort are required elements of any rider footwear, I wore them for dozens of miles on foot and in the saddle. I wore them while camping with horses and while moving cattle. I wore them while riding bareback, ponying horses, and trail riding over gnarly terrain.
No blisters or sore feet. Plenty of satisfying grins (mine) and compliments from others.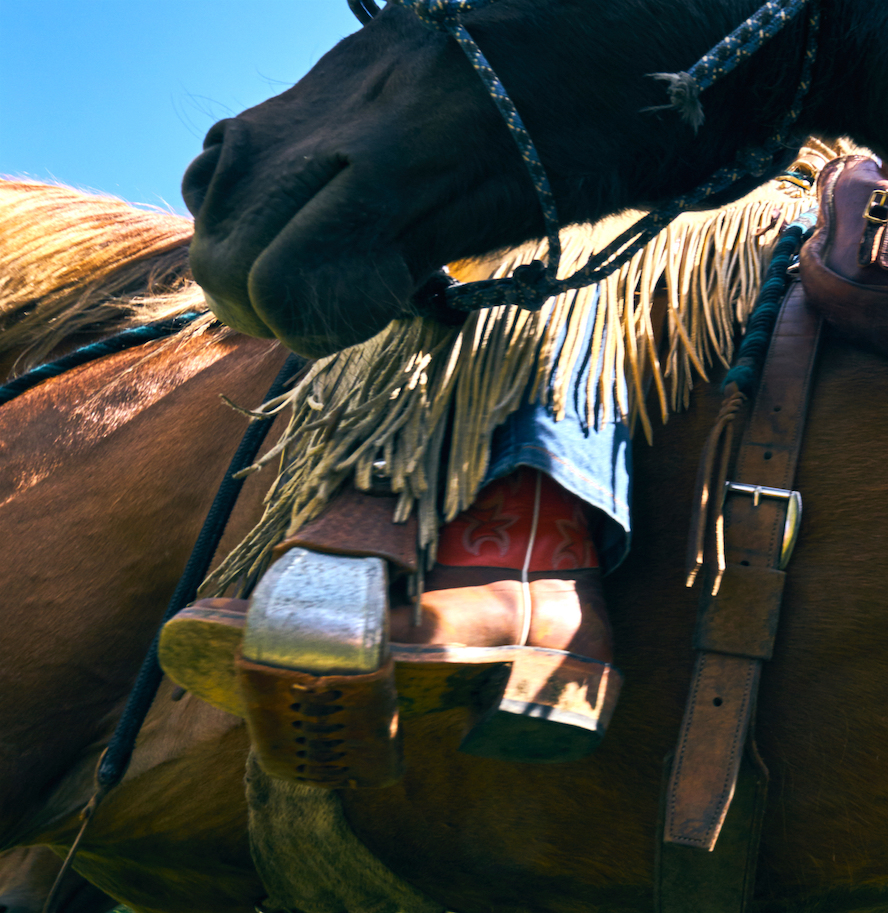 The boots feature a Cutter toe (also called a wide toe or a modified square toe by other boot makers), and a slungback heel. They are made almost entirely of high quality leather, including the sole and heel stack. Just the heel base is finished with rubber.
Prior to wearing these Olathes, I hadn't worn boots with leather soles. But as someone who dreams recurrent nightmares of being dragged by my horse while my foot is caught in the stirrup, these boots may foster a sea change. I loved that they slip easily in and out the stirrups.
I also appreciated the full spur shelf, featured where the heel meets the boot upper. It's considerably more ample and spur-friendly than on most other boots and adds a certain beefiness to the boot.
Olathe and its sister companies, Anderson Bean Boot and Rios of Mercedes boots, employ about three dozen bootmakers in Mercedes, Texas, not far from the Mexico border. Many employees have passed down leatherwork expertise over the generations.
It's no wonder the boots worked so flawlessly in my tasks (which have involved plenty of cow work lately). Trainor Evans is one of the three co-owners along with J.P. Moody and Ryan Vaughn. Evans' family has cattle ranched in Texas and New Mexico for five generations. He said, "the people I work with, their other joy and passion are horses and cattle. This is reflected in the boots we make."
Coming soon, Jim Thomas of the Bar T Ranch reviews a pair of men's Olathes.
Check out this American Cowboy article on American cowboy bootmakers.