Consider all our horses and the millions of hay bales we toss to them every year.
We're now collecting it in Mancos. Bring clean, used twine to Mancos Public Library. Read the flyer here.
Consider all that baling twine:
Do you toss it?
Do you burn it?
Do you bury it?
Until recently, there were no good answers to the twine waste problem.
But the Four Corners Backcountry Horsemen club is starting to collect the twine for recycling. As soon as it has enough, the club will ship it off and may earn as much as five thousand dollars for its efforts.
Christopher Smyth is organizing the recycling effort in the Durango, Colorado area. He first heard of it from Emma Van Dyck, who developed it as a 4H project a few years ago. Read more about that here and watch video.
As far as these folks know, just one American plant recycles twine: the I 90 Processing plant in Albert Lea, Minnesota. The company makes new twine from the used product. Currently, only a handful of communities are taking advantage of the program.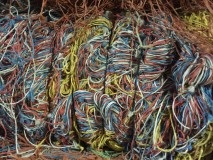 Certainly, there are challenges. For starters, you need A LOT of twine to make shipment to Minnesota worthwhile. Smyth says the club is aiming to collect 40,000-45,000 pounds of twine over a few years.
Next, you need a place to store it.
Valley Feed and Ranch Supplies in Bayfield, Colorado, has stepped in to provide space.
Smyth said the club is now looking for a container to place on site in Bayfield. Additional plans will be made to have collections elsewhere in southwestern Colorado.
"You have to be pretty proactive," said Smyth of the program and its challenges. But it's a worthwhile endeavor, he said. "Some people burn it. When it's left outside, some birds can use it for nesting and become tangled in it."
We all know there is plenty of twine out there. Smyth said his club plans on inviting neighboring Backcountry Horseman clubs to join in the collection. For more information, email Smyth at [email protected]
We think it's a great project. Kudos!