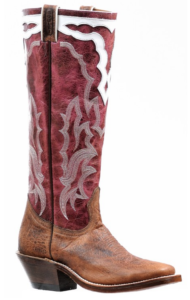 You can't advocate for riders to reach outside their comfort zones and going for new experiences with their horses without doing likewise. So, when it came to reviewing a pair of boots from Boulet, the Canadian family-run company based northeast of Montreal, I knew I'd have to put my money where my mouth is with boot choice.
No old standards (ropers with short shafts and heels or simple buckaroo boots) allowed.
Instead I received tall, ornate boots with a wide toe. They are part of a new Boulet line of men's and women's styles crafted from North American bison. Check out the boot here.
The stovepipe top, a style that dates back nearly a hundred years, is made to be worn with jeans tucked in. But not necessarily. I was equally content wearing jeans in and out.
I've worn these Boulets over many miles of walking and riding. The 16-inch shaft tops out just below my knee and is comfortable against my calves even with short socks. When I had jeans outside the boots, the jeans fit snugly and did not creep up my calf as I rode (something that happens with other boot-jean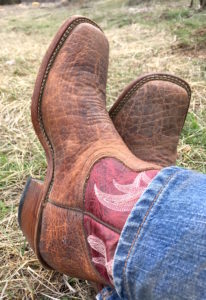 combinations).
The Boulets are true to size and have accommodated my wide foot and high instep without giving so much play as to cause rubbing or blisters. Prepared for the typical break-in period of discomfort, I experienced none.
These Boulets have a leather sole and rubber heel. I was skittish about the leather sole – some boot companies make them so slick, it's like walking on banana peels. Not so here, the practical combination grips while walking but still slips in and out of stirrups effortlessly.
Stepping outside your comfort zone isn't always as scary as we imagine. Often, positive discoveries are revealed: going down a new trail, you might find an exquisite berry patch or learn that you and your horse are more capable than you'd thought.
In the case of leaving the standard boot comfort zone, I discovered I had snazzy boots to highlight an Easter dinner outfit and that I now had a great pair of tall boots for extra security in snake country (rattlesnakes are fairly common here).
Earlier this year, Louis Boulet told me: "We want people to wear the product, to abuse the product, to appreciate the quality. We make a good boot and we target horse people, not fashionistas," said Boulet.
I took him at his word. While these Boulets would win most boot beauty contests, they still proved to be incredibly practical, comfortable, and tough.
Turns out stepping outside the comfort zone wasn't so scary after all.
Read additional Boulet review here.